Dell Technologies
Your Business is Always Ready to Move Forward
Start your transformation and realize your future as a digital organization. Modernize with IT infrastructure including servers, storage, data protection, converged and hyperconverged solutions from Dell EMC. Give your workforce the power to perform their best with transformative PCs and displays from Dell. We can help you prepare and create your digital future today.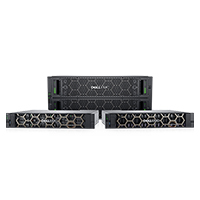 POWERVAULT ME4 SERIES
Dell EMC PowerVault arrays, already the preferred choice for thousands of small scale and price-conscious businesses, now gain broader appeal with the new PowerVault ME4 Series. The PowerVault ME4 Series is a next gen entrylevel block storage array that's purpose-built and optimized for price-sensitive SAN & DAS environments with the simplicity, performance and affordability you'd expect from Dell EMC.
VxRail
Dell EMC VxRail™ accelerates and simplifies IT through standardization and automation. With VxRail, you don't just deploy a server, you transform your infrastructure.