Annual Results – 2019 Highlights :
-Revenue increased by 6% to HK$ 66.2 billion
-Net Profit for the year increased by 9% to HK$810 million
-Earnings per share increased by 10% to 57.03 cents
-Dividend increased by 10% to $0.167 per shares
-Return on Equity 15.2%
Asia-Pacific technology product channel development and technology solution integration service provider VSTECS Holdings Limited ("VSTECS" or "Group", stock code: 0856.HK), today We are pleased to announce the company's annual results for the twelve months ended December 31, 2019.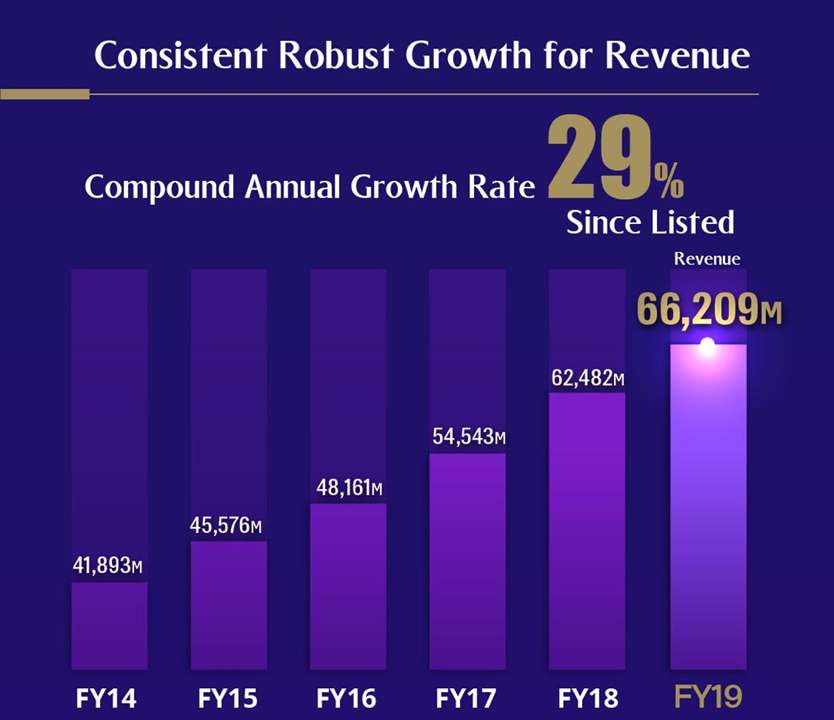 In the past 17 years, despite experiencing difference economic cycles, VST ECS's revenue maintain double digit growth every year.
In 2019, from the strong demand situation for big data cloud computing and innovative technology software and hardware services, VSTECS take the opportunity to develop its performance to reach a high record in the era of big data. During the period, the turnover reached HK $ 66.2 billion, an increase of 6% over last year (2018: HK $ 62.5 billion), gross profit was approximately HK $ 2,968 million, an increase of 6% over last year (2018: HK $ 2.81 billion), and net profit reached HK $ 810 million. An increase of 9% over last year (2018: HK $ 741 million). Basic earnings per share for the year were approximately 57.03 HK cents per share (2018: 51.62 HK cents) and the dividend per share was 16.7 HK cents (2018: 15.2 HK cents).
In terms of classification, the Group's revenue from the accessories business was approximately HK $ 12.6 billion, accounting for 19% of the total revenue of the Group, an increase of 12% over last year; the revenue from the mobile terminal business increased by 3% to HK $ 27 billion, accounting for 41%; business revenue from the cloud computing and big data segments increased by 4% to HK $ 16.9 billion, accounting for 25% of the group's total revenue; revenue from the network and information security business was approximately HK $ 9.7 billion, an increase of 10%, accounting for 15% of the group's total revenue.
In terms of geographical distribution, the company's business in North and Southeast Asia has performed well. Among them, the business turnover in North Asia increased by 5% to approximately 52.1 billion Hong Kong dollars; the turnover in Southeast Asia reached 14.2 billion, an increase of 8%. North Asia and Southeast Asia contributed 79% and 21% of the Group's total turnover, respectively.
Enhance Development In"Cloud Computing + Big Data + Ai"For The Coming Rapid Growth in 5G New Infrastructures.
In fiscal 2019, VSTECS deepened the layout of the core industries of the new infrastructure: continued to expand the AI ​​market, signed cooperation agreement with Alibaba Cloud, Zhongke Yuncong, SenseTime, China Telecom Tianyi Cloud and Cisco China. VSTECS's service business continued to explore and expand more than 100 major customers in the government, finance, manufacturing, chain stores, energy, communication, education, medical care, Internet and other industries.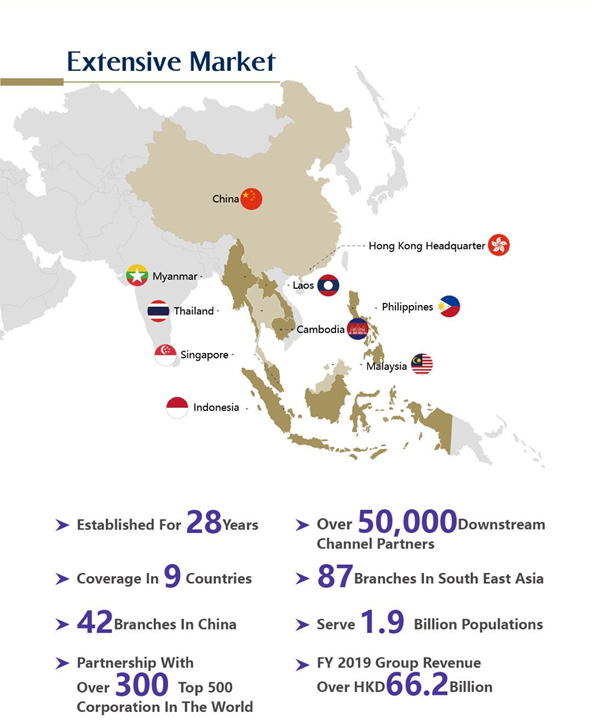 About VSTECS Holdings Limited
VSTECS Holding Co., Ltd. (hereinafter referred to as "VSTECS") was established in 1991. It is a service provider of technology product channel development and technical solution integration in the Asia-Pacific region. Its business includes mobile digital terminals, accessories, cloud computing and big data analysis, Network and information security, covering cloud computing, mobile internet, system equipment, software, information security, basic network, data storage, computer accessories, IoT applications, game consoles, aerial cameras and virtual reality products, etc. and actively expand supply chain finance and new retail businesses. VSTECS establishes strategic cooperation with more than 300 Fortune 500 technology companies upstream, and connects more than 50,000 channel partners downstream. VSTECS has 87 offices in nine countries including China, Thailand, Malaysia, Singapore, Indonesia, Cambodia, Myanmar, Laos and the Philippines.
For more information, please visit www.vstecs.com