Wacom
We Dream of a World Alive With Creativity
We love what creativity brings to the world. It makes us human, adding a richness to our lives, bringing ideas, imagination and beauty. We dream of a world alive with creativity, where people are free to explore and express new ideas.Wacom provides interactive pen displays, pen tablets, and styluses to equip and inspire everyone make the world a more creative place.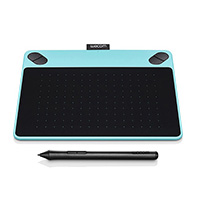 Wacom Intuos
Explore new ways to get creative with Wacom Intuos With a light, super-accurate pen and free downloadable software* to suit your style, Wacom Intuos is built to bring your wildest ideas to life. Live. Dare. Create.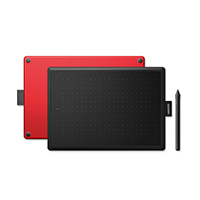 One by Wacom
Sketch and paint with more precision. Our advanced electro-magnetic pen technology gives you excellent control and accuracy. One by Wacom helps your art projects come out the way you've always wanted, by perfectly matching the movement of your pen. Editing photos? Everything from complicated cut-outs to delicate color adjustments are so much easier. Get ready for a load more 'Likes'.
Wacom Intuos Pro
Wacom Intuos Pro offers you more natural creative control than ever before. Combined with the super-sensitive Wacom Pro Pen 2, our sleek new tablet looks and feels amazing. Like to start your projects on paper? The Paper Edition enables to automatically convert paper sketches into digital files, as you draw. Perfect for your next creative breakthrough.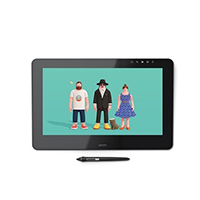 Wacom Cintiq Pro
Create directly on screen with our most natural pen experience The Cintiq Pro family is getting bigger. Joining the Cintiq Pro 16 and 13, the 32 and 24 are advanced creative pen displays, featuring premium 4K* screens with world class color performance and virtually no parallax. Combined with Wacom Pro Pen 2, they offer an experience designed to enhance every creative breakthrough.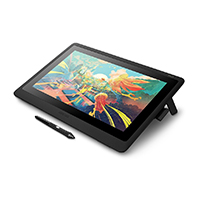 Wacom Cintiq Venus 22
Wacom Cintiq is a new class of creative pen display with an optimized feature set for creative starters. Vibrant color, HD clarity and ergonomic design together with the super-responsive Pro Pen 2, offer a natural experience and help take your creative ideas and illustrations to the next level.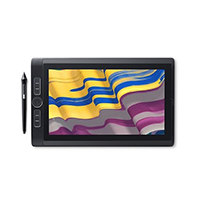 Wacom Mobile Studio Pro
Enjoy true independence to create anything, anywhere. Wacom MobileStudio Pro gives you a whole studio of creative tools in your hands – an awesome display, a precise pen and enhanced computing power to run leading creative software simultaneously. And with its long-lasting battery, you can bring your ideas to life without disrupting your flow. You'll love how creative and productive you can be.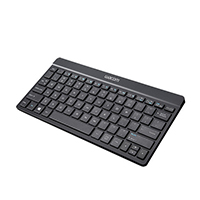 Keyboard WKT-400-XX
Built to travel and designed for the Cintiq Companion products, this Wacom keyboard connects easily to your device using Bluetooth technology. The Cintiq Companion Keyboard features a high-quality scissor switch feel, and the slim design allows the keyboard to slip easily into a pocket on the Cintiq Companion Carrying Case or laptop bag for easy portability.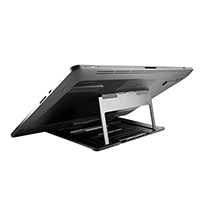 Adjustable Stand for Wacom Cintiq Pro 13 & 16
Part Number : ACK-627-01-K-ZX. The Adjustable Stand for Wacom Cintiq Pro 13 & 16 lets you quickly choose from three adjustable positions to suit your most comfortable working position. The sturdy but lightweight metal construction folds flat for easy transport.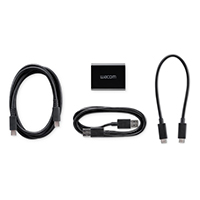 ACK-427-19-ZX Hybrid Adapter
The Wacom MobileStudio Pro can be connected to an existing computer for use in 'desktop mode'. This allows it to be used as a computer monitor with pen and touch input similar to a Cintiq. For computers that do not have USB-C connectivity the Wacom Link accepts a USB-A and mini DisplayPort input, then outputs these as a combined USB-C data and video signal into the Wacom MobileStudio Pro, allowing the Wacom MobileStudio Pro to be used in desktop or Cintiq mode. The Wacom Link will also function as a USB-A hub.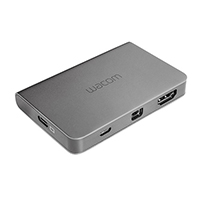 Wacom Link Plus Part number: ACK-428-19-ZX
Tap into the power of your Mac or PC by connecting it to Wacom Cintiq Pro 13 or 16 with Wacom Link Plus. You have three options: For up to 3840 x 2160 resolution (UHD) use either USB-C cable alone, or Mini DisplayPort and USB-A together. Alternatively, connect to your HDMI and USB-A ports with a high speed HDMI cable (up to 3 meter, 1 meter recommended) for up to 2650 x 1440 resolution (QHD). Lastly, connect your Cintiq Pro power cable directly to the Wacom Link Plus for a one-cable solution to your Cintiq Pro 13 or 16 display.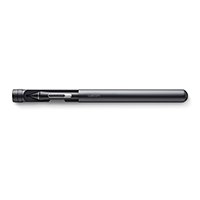 Wacom Pro Pen 2
Put precision performance at your fingertips with Wacom Pro Pen 2. Built for Wacom MobileStudio Pro, Wacom Cintiq Pro and Wacom Intuos Pro, it features 8192 levels of pressure sensitivity, tilt-response and virtually lag-free tracking. A protective case with three nibs and a nib removal hole is included. (Not compatible with Wacom Cintiq Companion, Cintiq Companion Hybrid, Cintiq Companion 2, Cintiq Displays, Intuos and Intuos Pro.)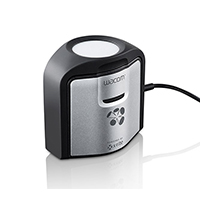 Wacom Color Manager powered by Xrite
The Wacom® Color Manager can help take the mystery and complexity out of color management and make sure that colors on your displays and in your finished work reproduce exactly as you intend and look true-to-life on all your devices. Eliminate guesswork, create a color safe environment and attain color accuracy on all displays and final outputs with the ultimate color management solution for artists, photographers and designers.