Mellanox Technologies
End-to-End High-Speed Ethernet and InfiniBand Connectivity
Mellanox Technologies is a leading supplier of end-to-end Ethernet and InfiniBand intelligent interconnect solutions and services for servers, storage, and hyper-converged infrastructure. Mellanox's intelligent interconnect solutions increase data center efficiency by providing the highest throughput and lowest latency, delivering data faster to applications, unlocking system performance and improving security. Mellanox offers a choice of high-performance solutions: network and multicore processors, network adapters, switches, cables, software and silicon, that accelerate application runtime and maximize business results for a wide range of markets including high performance computing, enterprise data centers, cloud, storage, cyber security, telecom and financial services.
SN2100
The SN2100 switch provides a high density, side-by-side 100GbE switching solution which scales up to 128 ports in 1RU for the growing demands of today's database, storage, data centers environments.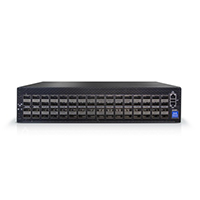 SN3800
Mellanox SN3800 is a 64-port 100GbE switch system that is ideal for spine/super-spine applications. With a landmark 8.33Bpps processing capacity and 12.8Tb/s throughput in a dense 2U form factor, SN3800 offers diverse connectivity in combinations of 10/25/40/50/100GbE. The SN3800 is well-suited to answer the challenging needs of large virtualized data centers and cloud environments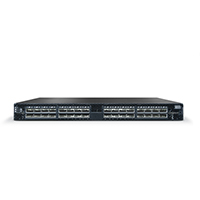 SN3700
Mellanox SN3700 200GbE spine/super-spine offers 32 ports of 200GbE in a compact 1U form factor. It enables connectivity to endpoints at different speeds and carries a throughput of 12.8Tb/s, with a landmark 8.33Bpps processing capacity. As an ideal spine solution, the SN3700 allows maximum flexibility, with port speeds spanning from 10GbE to 200GbE per port.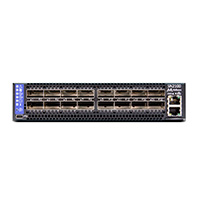 SN2010
The SN2010 switch is the ideal top of rack (ToR) solution for hyperconverged and storage deployments. Packed with 18 ports of 10/25GbE and 4 splittable ports of 40/100GbE, the SN2010 can deliver up to 1.7Tb/s aggregate throughput.
SN2410
Mellanox SN2410 provides the most predictable, highest performance 100GbE ToR switching platform for the growing demands of today's data centers. The SN2410 switch is an ONIE (Open Network Install Environment) based platform for allowing a multitude of operating systems to be mounted on it and utilizing the advantages of Open Networking and the capabilities of the Mellanox Spectrum® ASIC.
SN2700
Spectrum-based 32-port 100GbE Open Ethernet Platform. Mellanox SN2700 provides the most predictable, highest density 100GbE switching platform for the growing demands of today's data centers